Keynote Speakers:
Prof

Marianne Kamp

Indiana University

Kamp is a social historian of modern Central Asia who uses oral history methods to explore transformations in everyday life during the Soviet period and since the independence of the "-stans" in 1991. She is currently working on a book about the collectivization of agriculture in 1930s Uzbekistan, and developing research projects on history of the family in Central Asia, and on Central Asians who represented the USSR during the Cold War. She is author of The New Woman in Uzbekistan: Islam, Modernity, and Unveiling under Communism (University of Washington Press 2006); of an edited translation, with Mariana Markova, Muslim Women of the Russian Empire: Vladimir and Maria Nalivkins' nineteenth-century Fergana Valley Ethnography (Indiana University Press 2016); and of numerous articles and chapters. She serves as a book review editor for Central Asian Survey.

Prof

Adrianne Edgar

University of California, Santa Barbara

Edgar is an associate professor of modern Russian and Central Asian history at the University of Calfornia, Santa Barbara. Edgar has received research grants and fellowships from IREX, the Social Science Research Council, the Mellon Foundation, and the Alexander von Humboldt Foundation and has held post-doctoral and visiting scholar appointments at Harvard, McGill, the Humboldt University (Berlin) and the University of Melbourne. Her book, Tribal Nation: The Making of Soviet Turkmenistan, was published by Princeton University Press in 2004. She is currently completing her second monograph on interethnic intimacy in Soviet Central Asia and co-editing a volume on ethnic intermarriage in 20th-century Eastern Europe and Eurasia. Edgar has published articles on nationality politics, ethnicity, and gender in Soviet Central Asia in Slavic Review, Russian Review, Kritika, Ab Imperio, and Central Asian Survey; one of these won the annual article prize of the Berkshire Conference of Women Historians. She serves on the editorial board of Central Asian Survey and is an editor of the book series "Investigations in East European History" (Harrassowitz Publishing House, Germany).
Programme
all times are in CET
Tuesday, 26 October 2021
12:30 Opening
Dr Ivan Simić (Charles University) – on the project: Communist Gender Policies Towards Muslim Minorities in Eastern Europe
13:00–14:30 Legal Frameworks, Discourses and Role Models
Chair: Elife Krasniqi (University of Graz)
Dr Ivan Simic (Charles University) – Communist Enfranchisements – Legal Changes and Empowerment of Muslim women in early socialist Yugoslavia and Bulgaria
Dr Andreja Mesarič (Charles University) – Muslim reformism: An unexpected influence on Yugoslav communist gender discourses
Dr Yelena Abdullayeva (Oxford University) – Always Higher, Higher, and Higher: Azerbaijani Female Pilots as Role Models for the Muslim World
14:45 – 16:15 Communist Gender Policies in Practice
Chair: Zora Kostadinova (University College London)
Dr Zayra Badillo Castro (SOAS, London) – Women's councils in the mahallas: The many transformations of a Socialist project in Soviet Uzbekistan
Dr Brenna Miller (Washington State University – Pullman) – Muslim Women's Deveiling in Socialist Bosnia, 1947–1950
Dr Elena Petkova–Antonova (Bulgarian Academy of Sciences) – To Make Women Activists. The Case of Modernisation of Bulgarian Muslim Women during Socialism
16:30 – 18:00 Prof Marianne Kamp
Wednesday, 27 October 2021
14:00–15:30 Post-Communist Transformations and Continuities
Chair: Dr Yelena Abdullayeva (Oxford University)
Maryam Bainazar (Ohio State University) – "Zuleikha, remove your veil!": Representing Muslim Women in Soviet and Post–Soviet Space
Rebecca Daviddi (McGill University) – In between "East" and "West"? Bosnian Muslims' responses to Saudi Arabian influence.
Dr Gianfranco Bria (the University of Roma "La Sapienza") – Gender, sharing and (post)socialism: focusing on Islamic graves in Albania.
15:45 – 17:15 Islam and Gender in Transnational Contexts
Chair: Aleksandar Kostić (Princeton University)
Dr Slavka Karakusheva (Sofia University St. Kliment Ohridski) – Gender, ethnicity and dynamics of representations among Turkish women migrants from Bulgaria to Turkey
Rustam Samadov (Humboldt University) – Marginalized masculinity of Tajik labor migrants: The effects of Russian migration regime and sources of manhood in a discriminatory environment
17:30 – 19:00 Prof Adrienne Edgar
19:00 – 19:30 Concluding remarks
Call For Papers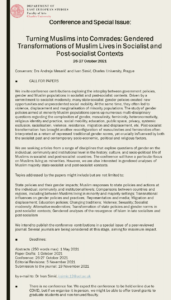 Conference and Special Issue:
Turning Muslims into Comrades: Gendered Transformations of Muslim Lives in Socialist and Post-socialist Contexts
26-27 October 2021
Convenors: Drs Andreja Mesarič and Ivan Simić, Charles University, Prague
CALL FOR PAPERS
We invite conference contributions exploring the interplay between government policies, gender and Muslim populations in socialist and post-socialist contexts. Driven by a commitment to socialist modernity, many state-socialist gender policies created new opportunities and unprecedented social mobility. At the same time, they often led to violence, displacement and marginalisation of minority populations. The study of gender policies aimed at minority Muslim populations opens up numerous multi-disciplinary questions regarding the complexities of gender, masculinity, femininity, heteronormativity, religious identity and practice, social mobility, education, public space, privacy, systemic exclusion, racialisation, violence, resistance, migration and displacement, etc. Post-socialist transformation has brought another reconfiguration of masculinities and femininities often interpreted as a return of repressed traditional gender norms, yet crucially influenced by both the socialist past and contemporary socio-economic, political and religious factors.
We are seeking articles from a range of disciplines that explore questions of gender on the individual, community and institutional level in the history, culture, and socio-political life of Muslims in socialist and post-socialist countries. The conference will have a particular focus on Muslims living as minorities. However, we are also interested in gendered analyses of Muslim majority state-socialist and post-socialist contexts.
Topics addressed by the papers might include but are not limited to:
State policies and their gender impacts; Muslim responses to state policies and actions at the individual, community, and institutional levels; Comparisons between countries and regions, including between Muslims living in minority and majority settings; Transnational influences on gender policies and practices; Representation and media; Migration and displacement; Education policies; Changing traditions; Violence; Sexuality; Socialist modernity; Alternative modernities; Transformation of state policies and gender norms in post-socialist contexts; Gendered analyses of the resurgence of Islam in late socialism and post-socialism
We intend to publish the conference contributions in a special issue of a peer-reviewed journal. Several journals are being considered at this stage, aiming for maximum impact.
Deadlines:
Abstracts (250 words max): 1 May 2021
Paper Drafts: 1 October 2021
Conference: 26-27 October 2021
Editorial Revisions: 5 November 2021
Submission to the journal: 19 November 2021
by e-mail to: Dr Ivan Simić, i.simic.12@ucl.ac.uk
There is no conference fee. We expect the conference to be held online due to COVID, but if we organise it in person, we might be able to offer travel grants to graduate students and non-tenured faculty.